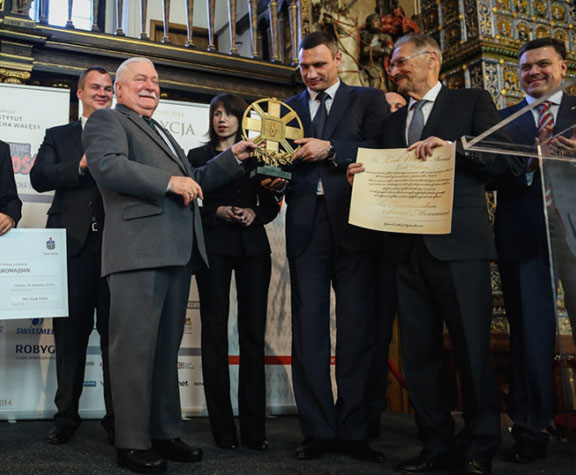 OUR MISSION
Foundation "Lech Wałęsa Institute" is a non-political, non-governmental and non-profit organisation, founded by Lech Wałęsa in December 1995 as one of the first of this kind in Poland.
---
Through its activity, the Institute realises the following aims:
Conducting historical research on the role of Lech Wałęsa in the Solidarity movement and Polish political transition, as well as promoting knowledge about Polish way to freedom both on national and international level.
Scientific activity and cooperation with research facilities.
Award for the best dissertation about the role of Lech Wałęsa in the Solidarity movement and the Polish transformation.
Lech Wałęsa's Library.
Educating youth about the rules of democracy, peace, the role of Lech Wałęsa and the history of Polish political transformation.
Noble Academy – promoting the knowledge about the Noble Peace Prize among high school students.
Educational programme "Heroes of Free Poland" – meetings with the leading personalities of the transformation period in the schools of Gdańsk.
Promoting Poland, the principles of democracy and Polish peaceful political transformation experience worldwide.
Promoting the positive image of Poland.
Academic exchange between Poland and the USA.
Protecting the environment and supporting innovative ecological solutions according to Lech Wałesa's idea of "the Solidarity of the 21st Century".
Support Us
We would like to extend our gratitude to all our Donors. It is thanks to you that we can promote the ideal of solidarity, support society democratization processes, promote a cross-cultural dialogue, and prevent human rights' abuses.
How to support us
The list of projects