CURRENT ACTIVITY
Today Lech Wałęsa continues his mission of international and interpersonal solidarity advocate. Visiting different places around the world, he speaks about Polish bloodless struggle for freedom, peace and democracy. Since the end of his presidency (1990-1995) Wałęsa has visited several dozens of countries, carrying his message of solidarity. Observing ongoing processes of rapid globalisation, he also stresses the need to answer the challenges of economic development and changing societies. Wałęsa, being globally active, contributes to the positive image of Poland and breaks negative stereotypes about Poles.
Lech Wałęsa is the symbol of the political transition in Poland and around Europe. In his activity he supports various initiatives. Having initiated the cooperation between Nobel Peace Prize laureates, he was also active in the European Reflection Group which was responsible for recognizing challenges facing the European Community. Wałęsa symbolically represented Europe during the Winter Olympic Games in 2002, carrying the Olympic flag with representatives of different continents.
ACTIVITY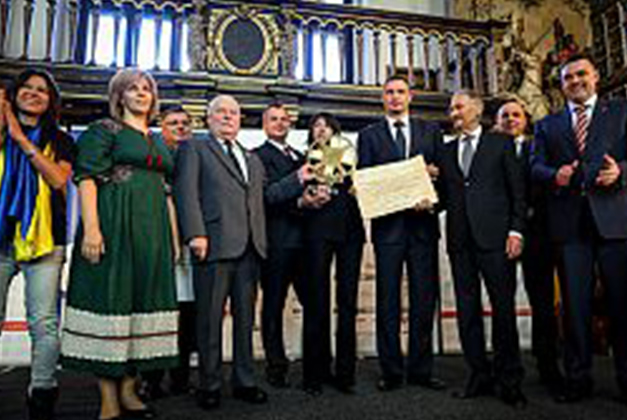 Lech Wałęsa remains active, supporting human rights and the democratization of societies worldwide. He stays in touch with many dissidents from countries ruled by dictatorships. His activity was recognised in 2009 when he was given the Ernst Reuter Medal – the highest decoration handed by the city of Berlin in recognition of particular engagement in the struggle for freedom, democracy, and human rights. He also established a decoration himself – the Lech Wałęsa Award was given to organizations actively supporting peaceful cooperation and solidarity between nations, as well as freedom and acceptance for fundamental individual rights.

Lech Wałęsa participates in the public life, taking part in celebrations and ceremonies to commemorate the most important historical events in Poland. His activity brought him honorary citizenship of many cities, including Warsaw, Cracow, Szczecin, Opole, Radom or Zielona Góra. He is also recognised by the academic community, being awarded with honorary degrees at Polish and foreign universities.
ADVOCATE OF SOLIDARITY
Today Lech Wałęsa continues his mission of promoting the idea of solidarity. Traveling around the world, he speaks about Poland's bloodless transition towards peace and democracy as a role model for different nations. Through lectures and dialogue he calls for a world based on universal values. Being a supporter of globalisation and seeing the great potential of modern technologies and global development, he promotes ways of peaceful cooperation between the nations in the 21st century.

Lech Wałęsa's activity has been widely recognised. He was awarded with the Poland's highest order, The Order of the White Eagle as well as the Order of Polonia Restituta. In 1989 he was given the highest American decoration for foreigners, the Medal of Freedom. He has also honoris causa degree at 38 foreign universities and honorary citizenship of 35 cities around the world. In 2004 Wałęsa represented the ten newly accessed states to the EU during an official ceremonial in Strasbourg. In 2008 he was elected the member of the Council of Sages. The same year he founded the Lech Wałęsa Award which was given, among others, to Ales Bialiacki, Luis Inacio Lula da Silva and Mikhail Khodorkovsky.
Support Us
We would like to extend our gratitude to all our Donors. It is thanks to you that we can promote the ideal of solidarity, support society democratization processes, promote a cross-cultural dialogue, and prevent human rights' abuses.
How to support us
The list of projects